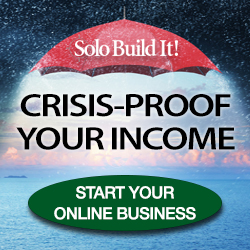 Solo Build It!
(SBI!) from
SiteSell
was created for first-time web business builders who have a need or desire to create a profitable business of their own.
Using a unique system of
step-by-step process
, software, guidance and support, tens of thousands of SBI! members understand the difference between putting up a website or blog and creating a
solid long-term, income-generating business.



They condense the overwhelming and ever-changing complexity into one all-you'll-ever-need, online business-building approach.
How Can They Help You Start an Online Business?
This is not just a service with all the fancy buttons to "get a site up there", they are a community of supportive technical experts who mentor and teach you everything you need to know about not just building a website (there are hundreds of companies that can do that), but more crucially:
building a successful online business with income and equity
.
They base the whole company culture around the opposite of get rich quick, which is all too common online today. One of their slogans is
"pay it forward"
and I think best sums up their philosophy.
They are not just a service to help you
build an online business
. They are a personal development company helping you achieve your goals and the personal growth that follows from that.
The vast majority of websites, over 99.5% in fact, have virtually no or nil traffic.
That's right, even the fanciest, prettiest looking site is no indicator that anyone is visiting! And if you don't have visitor traffic, especially targeted traffic for your niche, you have no business.
You wont have this problem with Solo Build It! If you follow their blueprint you won't be in that 99.5% of sites with no traffic.
In fact you'll build a site with steadily growing targeted visitors and willing buyers.
So work it as they tell you and
you will build a successful online business
.
It's as simple as that.
First Class Solo Build It! Tools at Your Disposal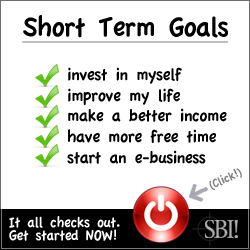 I don't want to dazzle you with all the bells and whistles tools
Solo Build It!
has, as you can read more about them
on their website
, but I will explain just a few:


A 'brainstormer' that is leading edge, I've not seen any other one that comes close. If you don't do the research and preparation before you write your first page, you've failed before you've begun so this is important.


A block builder that is so simple to use, concealing many of its abilities at first glance. This is mission control. This is where you get to create your web pages and not just any old web pages mind you. It analyses pages and sets them up perfectly to get found by the search engines and generate high volumes of traffic.


It includes hosting in your fees, there are no extra costs to set up your domain name (which you own, not SiteSell, which gives you genuine equity of your business).


They have hundreds of templates to get you started so you need not be a graphic designer either - SiteSell is perfect for newbies and the technically proficient alike.


With Solo Build It! You Are Never Alone
You are never on your own. There is a step-by-step guide called the
Action Guide
. By going through this guide, which is available in both text and video form, you go from a zero knowledge haven't got a clue rookie into a knowledgeable, confident creator of websites in next to no time.
They are also a close community. Through their forums and support departments, you have constant contact with fellow '
SBIers'
and other people who genuinely care about their product and their company.


It's fine saying sign up with
SiteSell
, they've got all you need under one roof and off you go, well, they have all this and more and it's the
success stories
that offer you the proof.
These people are not gurus, they don't have magic powers or any prerequisite hidden talents. They just follow the
SiteSell
model, engage their unique brains and are consistent in their approach and application.
If you want to
start your own online or offline business
to make an extra income that makes yours and your family's life a little better or you want to go the whole hog and build a business empire you can do it with these guys.
There are no limits, only those in your imagination. It's 100% your choice.
Get Started Today!


They have a full,
no questions asked full 90 day money-back guarantee

,
so you can try them out risk free.
If it's not for you, then just ask for your money back, there's no loss.
Either way, you'll have more of a chance of building a successful online business than taking a punt on loads of other lesser providers out there.
Contact SiteSell here
directly if you have any more questions. They're a friendly bunch, so don't be shy!